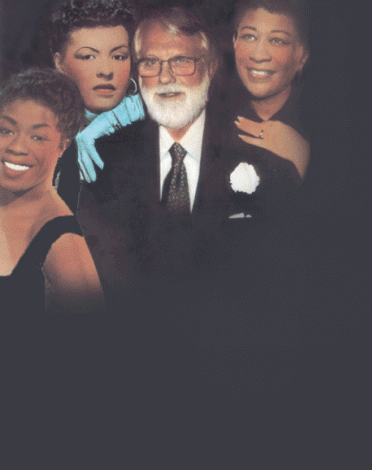 The beard has turned grey, the glasses are somewhat thicker and over the years the shape has filled out, fitting a more mature man. But the more than five decades that have passed since the inception of STORYVILLE have not really changed the original impression of the man behind this record company - KARL EMIL KNUDSEN

Get a PDF file for printing PRESS HERE! if you need Acrobat Reader
press the red symbol
The excitement of his voice and the intensity of his eyes when a new idea is born are exactly the same as they were in the early fifties, when the adventure began!
THE BEGINNING To be exact, the year was 1950, when a group of jazz enthusiasts/record collectors often met at the home of Karl Emil Knudsen. Among those present were Heinrich Breiling and the young clarinet phenomenon Henrik Johansen. It wasn't the strong tea or the constant flow of beer, typical of the jazz scene at the time that drew together this enthusiastic group. It was something quite different. Knudsen always seemed to present a new stack of 78's, freshly delivered from either England or the U.S.
The import laws were rather strict at the time, to put it mildly. But Knudsen had discovered that collector friends were quite wild about early Danish jazz recordings, especially local renditions of Tiger Rag and St. Louis Blues. So he had established a sort of swap/trade arrangement which was accepted by the authorities.
Some of the early trades brought forth numerous Paramount and Gennett recordings, reissued on an ambitious scale on new labels. The young Knudsen had his own business ambitions and realised very early that there were possibilities in his native Denmark.
Heinrich, Henrik and Karl decided to start a new label. They chose the name Storyville, inspired by the famous district in New Orleans which was the birthplace of jazz. This venture could not contain all of Knudsen's ambitions. That's why Basin Street Club, started with some other good friends, came into being. The club was named after the best known street in New Orleans.
To attract the public, he went to England to persuade some name bands to play at his Basin Street Club in Copenhagen in addition to the Danish house bands Adrian Bentzon's Jazz Band and The Ramblers. That was how Knudsen met Chris Barber in 1950, who was then working part-time for the small record company Tempo. This company was releasing exactly the same kind of music that Knudsen and his friends wanted to issue. So Tempo licensed some of their masters and they were then pressed on the Storyville label.
The first issue was a 78 of the 1924 Red Onion Jazz Babies playing Terrible Blues/ Santa Claus Blues. Featuring great personnel, including both Louis and Lil Armstrong, the record became a small sensation, particularly among record collectors. It bore the catalogue number KB I00. The output that first year starting just before Christmas of 1952 included material from other companies, totalling 10 to 12 releases. But it became clear to Knudsen that all the work at Storyville was his responsibility. He and his partners agreed that their original investment of 500 Danish crowns would be paid back and Karl would then be on his own. After a severe illness, Knudsen had taken a leave of absence from engineer studies at The Technical High School of Denmark. He worked part time for an engineering office under the Copenhagen Telephone Company - KTAS. Storyville business was tended to after hours. After 2 to 3 years of this arrangement, his superiors at KTAS suggested that Knudsen would be happier running Storyville full time. That suited Knudsen, who had developed a taste for starting things.
He realised, that he could transform his hobby into an ongoing financial concern. He forever put aside plans to resume his studies. At this same time, Knudsen started the concert agency Jazz Jamboree, along with Anders Dyrup. Anders was very close to Adrian Bentzon's Jazz Band, and soon they were arranging concerts with them all across the country. Later, they did the same for Chris Barber, Ken Colyer, Humphrey Lyttelton, the Dutch Swing College, Cy Laurie, Graham Stewart, Sandy Brown, and other great names of the period. Even grander concerts were promoted in Copenhagen with the Modern Jazz Quartet & Chet Baker in the Odd Fellow Palais and Lionel Hampton at the K.B. Hall.
Anders Dyrup started with the Adrian Bentzon Jazz Band the Club Montmartre during this period and wanted to get into the recording business as well. He made a batch of recordings, but very much against his will, was drafted. He made a new deal with Knudsen "because now he had all these records laying around, and they wouldn't sell themselves."
Anders' label was called Sonet, and, together with Knudsen's Storyville, these recordings became the main output of their joint activity: The Danish Grammo­phone Publishing Co. (Dansk Grammofonplade Forlag). In 1955 a closer cooperation started with Scandinavian Record Company of Sweden. Travelling salesman and part-owner Gunnar Bergström of SRC came to visit Knudsen in Copenhagen and the foundation for the Sonet family of companies in Scandinavia was laid. The partnership between Dyrup & Knudsen lasted until 1963, when Anders wanted to withdraw. After this, Knudsen became the sole owner of the company. In the meantime, the relatively few recordings made by Chris Barber and Ken Colyer had turned out to be very nice hits. "Ice Cream", "Down By The Riverside" sold more than 250,000 copies, in Germany, Holland and Denmark mainly. The catalogue number was A45000 and was also the very first 45 rpm record on Storyville. Also, Papa Bue's first recordings from 1956 slowly began to be quite good sellers. But it was the recording of "Schlafe mein Prinzchen" by Bue's Band in 1959, which became the first real big chart topping success. With sales of close to one million from Germany, Austria, Switzerland, Holland and Scandinavia, the company was firmly established.
Around this time, Gustav Winckler (the Danish Bing Crosby) was hired as a producer of Danish pop artists. The company signed names like Raquel Rastenni, Grethe Sønck and Dario Campeotto. Later on, Jørgen Winckler and Gustav himself followed. Of course, all these artists were released on Sonet. All through the 1960'ies and 1970'ies, Sonet had countless hit records and started signing US labels such as Roulette, Chancellor, Canadian American as well as independent singles from several smaller producers. This was the way Knudsen first met Chris Blackwell who turned up in the Copenhagen office with a Laurel Aitkin single, which was issued on Sonet soon after. A foundation was laid for the later sign up of Blackwell's new label Island, while Storyville moved along slowly with limited activity.